More than 30 manufacturers use equipment produced by Sonobond, a leader in the application of ultrasonic bonding and welding technology, to achieve improved production speed, product durability, cost-effectiveness and compliance with NIJ standards, the company reports.
[quote_box_center]"Instead of needles, thread or glue, our equipment uses ultrasonic energy to create strong molecular bonds, resulting in durable, perfectly sealed seams without stitch holes, glue gaps, fraying or unravelling," explained Melissa Alleman, Sonobond Vice President. [/quote_box_center]
[quote_box_center]"Sealed seams mean better protection for the bullet-proof materials contained in the vest – such as Spectra-Shield and Kevlar – ensuring that they are less likely to lose their life-saving effectiveness by being exposed to moisture.  They also achieve compliance with National Institute of Justice (NIJ) wet-conditioning standards (NIJ-0101.06) requiring body armour to be waterproof, even after submersion for 30 minutes."[/quote_box_center]
Ultrasonic energy
With armed services personnel, emergency responders, law enforcement officers, and others exposed to more and more perilous circumstances, reliable body armour is essential for their personal safety.
The ultrasonic energy – directed into woven or nonwoven synthetic materials or blends with up to 40% natural fibres – is said to result in a rapid heat build-up that causes the synthetic fibres to soften and fuse, creating the strong molecular bond, according to the company.
Body armour assembly
Sonobond's SeamMaster High Profile Ultrasonic Sewing Machine is said to be perfect for sealing the outer nylon shell of body armour.  Its rotary system seals and trims in one quick step, making assembly up to four times faster than with conventional sewing machines and 10 times faster than adhesive methods, the manufacturer reports.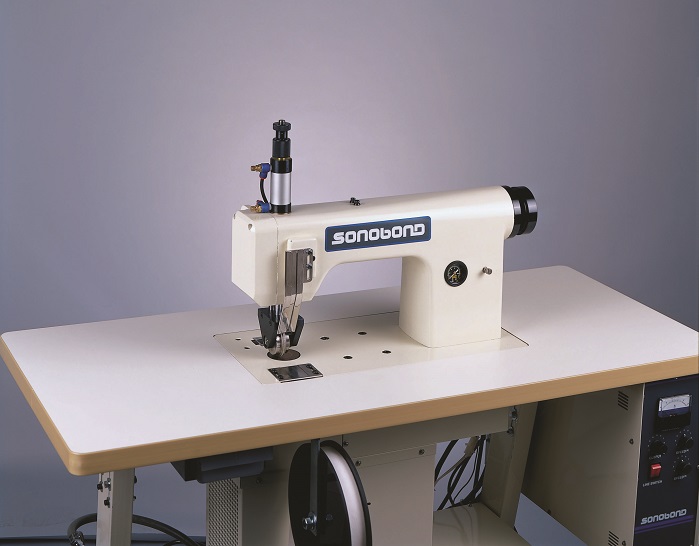 According to Sonobond, some manufacturers have increased production output by as much as 25% since switching from sewing and adhesives machines to ultrasonic bonding technology.
The SeamMaster High Profile Ultrasonic Sewing Machine operates like a traditional sewing machine so only minimal training is required.  It is also available as a modular unit for integration into production lines.
Attaching straps to the outer shell of ballistic vests
A second machine that's useful for body armour assembly is Sonobond's Ultrasonic PlungeBonder, the company reports.
It is suited for attaching coated synthetic straps within the seam of a ballistic vest's outer shell without compromising its integrity, again ensuring the vest's ability to satisfy NIJ submersion standards.  The machine is said to easily attach straps at a rate of five vests per minute.
Free ultrasonic bonding viability test
Sonobond offers a free, no-obligation ultrasonic bonding viability test, using materials supplied by potential customers, to ensure that its ultrasonic equipment meets the requirements of specific applications.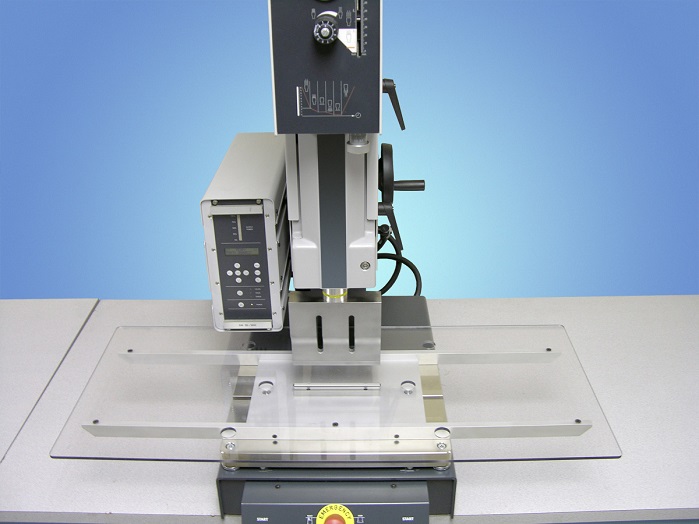 The company also provides technical expertise and quality service, assisting customers with questions, customization needs, installation, and on-going technical support.
Sonobond is a leader in the application of ultrasonic bonding and welding technology, holding more than 150 patents. Today, the company manufactures a complete line of ultrasonic welding and bonding equipment used by leading firms in the electrical, automotive, appliance, HVAC, solar, aerospace, filtration, medical, body armour and apparel industries.