EDANA, the leading association serving the nonwovens and related industries, has launched a new infographic, delivered as part of its study into durable nonwoven applications.
Nonwoven filter media contribute to cleaner drinking water throughout the world, the association reports. Alongside other filter materials, they enable the effective filtration of drinking water, providing significant improvements to public health across the globe.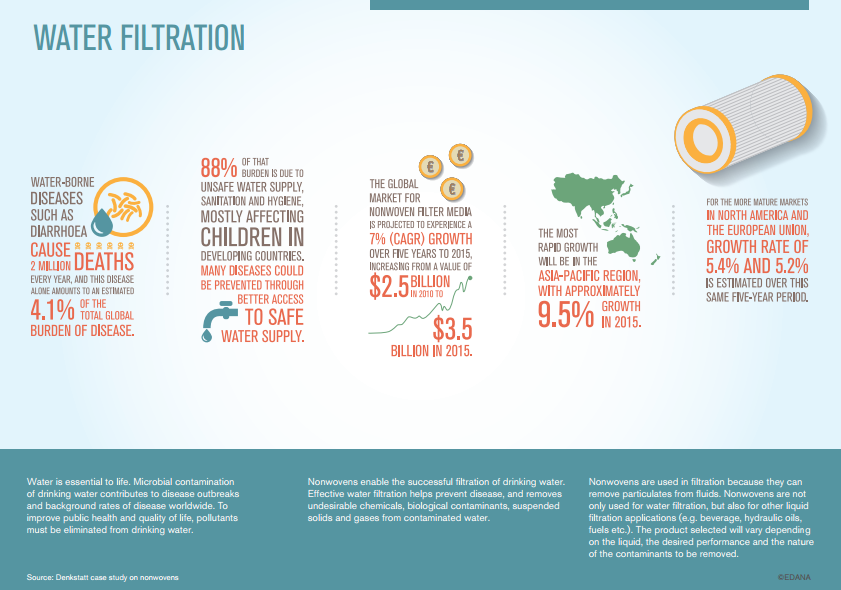 Nonwovens used in water filtration applications help eliminate pollutants from the water, effectively preventing the outbreak and spread of disease worldwide.
Improving quality of life
"Providing better access to drinking water is key to improving the lives of people throughout the world," said Pierre Conrath, Sustainability and Public Affairs Director at EDANA.
"Today, millions of people still suffer and die from water-borne diseases which could easily be prevented. Every year, diarrhoea alone kills over 2 million people, mostly children. Nonwovens can play a role in changing this, by providing effective, affordable and flexible solutions to make water safe to drink."
Nonwovens in filtration
The added value of nonwovens in filtration lies in their versatility and their ability to remove particulates from fluids. Nonwoven filter media are used to filter drinking water, but also beer, milk and dairy products, oils, fuels and other liquids.
Nonwovens can be tailor-made according to the nature, volume and pressure of the liquid to be filtered and the type of contaminant to be removed.
EDANA
EDANA serves more than 240 companies across 37 countries in the nonwovens and related industries.
The Association's mission is to create the foundation for sustainable growth of the nonwovens and related industries through active promotion, education and dialogue.
This article was orininally published at: http://www.innovationintextiles.com/nonwovens/nonwoven-filter-media-help-provide-clean-drinking-water/#sthash.MLUsXe3r.dpuf