In collaboration with Japanese architect Arata Isozaki, British sculptor Anish Kapoor has designed an inflatable, portable concert hall for the nationwide tour of the Lucerne Festival. He's dubbed the project "Ark Nova." Kapoor—known for producing the most gigantic of abstract installations—has taken his craft to a whole new scale with this work: the bulbous form can accommodate more than 500 people within its polyester membrane.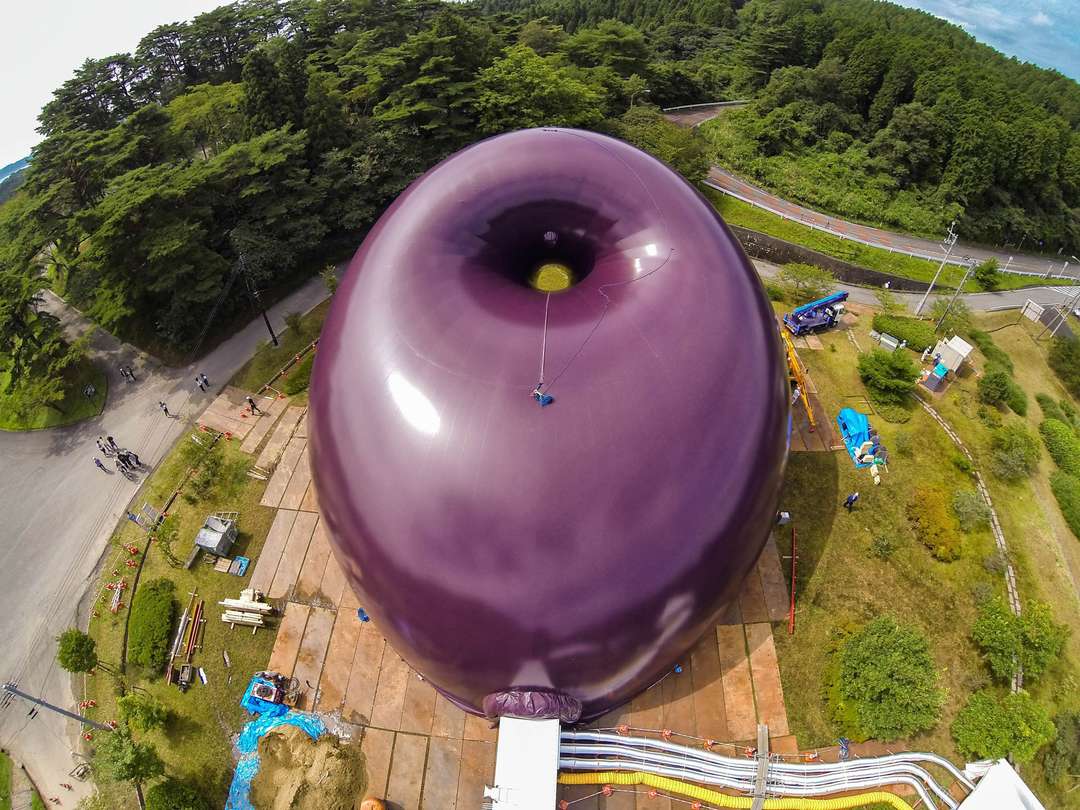 The outlandish structure encourages a whole host of associations; around the web, comparisons have been made to a super-sized plum, an inside-out circus tent, the lost egg of Godzilla, and even the womb of a presumably quite huge and supernatural being. Kapoor, on the other hand, uses fundamentally more architectural terminology to describe the Ark: "The structure defines a space for community and for music in which colour and form enclose."
This sense of enclosure, and a preoccupation with color and light, is familiar territory for Kapoor: he concocted a similarly extraordinary inhabitable structure within the Nave of the Grand Palais in Paris in 2011. Called "Leviathian," this previous work set a precedent for the Ark in terms of its engineering (Kapoor indicated that the construction technique used in its formulation had taken 20 years to perfect) and its experiential qualities. The artist described his desire to create a space that has an emotional impact on its inhabitants: "Visitors will be invited to walk inside the work, to immerse themselves in colour, and it will, I hope, be a contemplative and poetic experience. Designed using the most advanced technologies, the work will not merely speak to us visually, but will lead the visitor on a journey of total sensorial and mental discovery."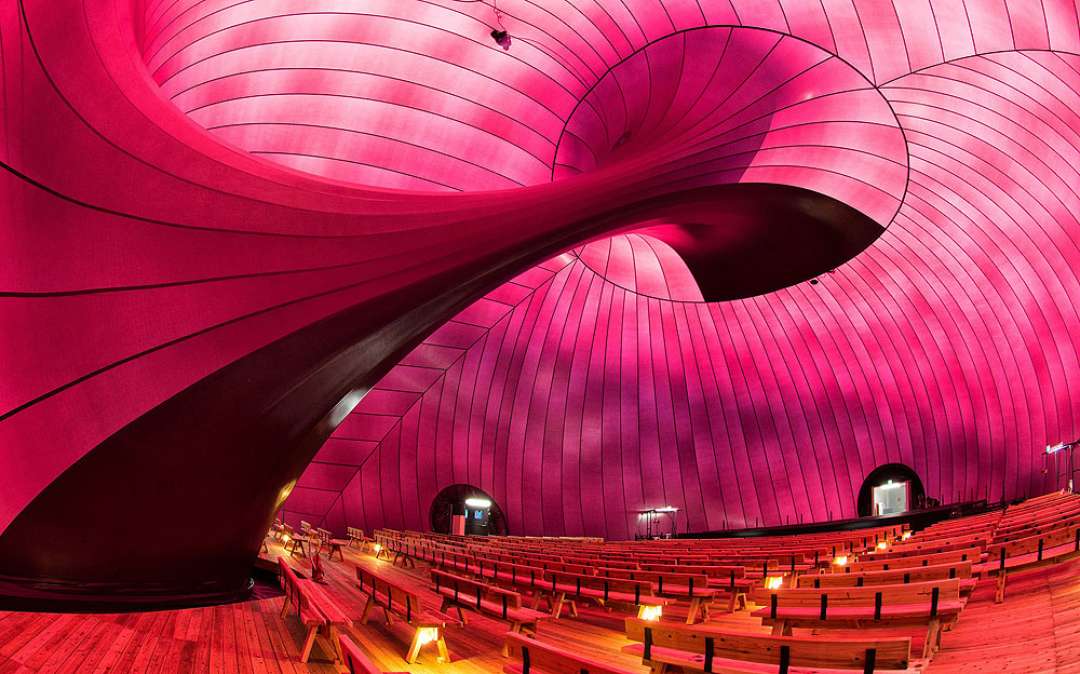 It follows then that the interior space must bear a greater significance than the sculpture's peculiar external form, and this is most definitely the case with Ark Nova. Viewed from above, the purple hue of its stretched skin appears to be a brash choice, fighting for attention against its natural surroundings and raising questions about Kapoor and Isozaki's motives. However, once inside, their thinking becomes clear: like an enormous pane of stained glass, the deep color dissipates the bright light that permeates the membrane, lending the space a calming, cathedral-like quality.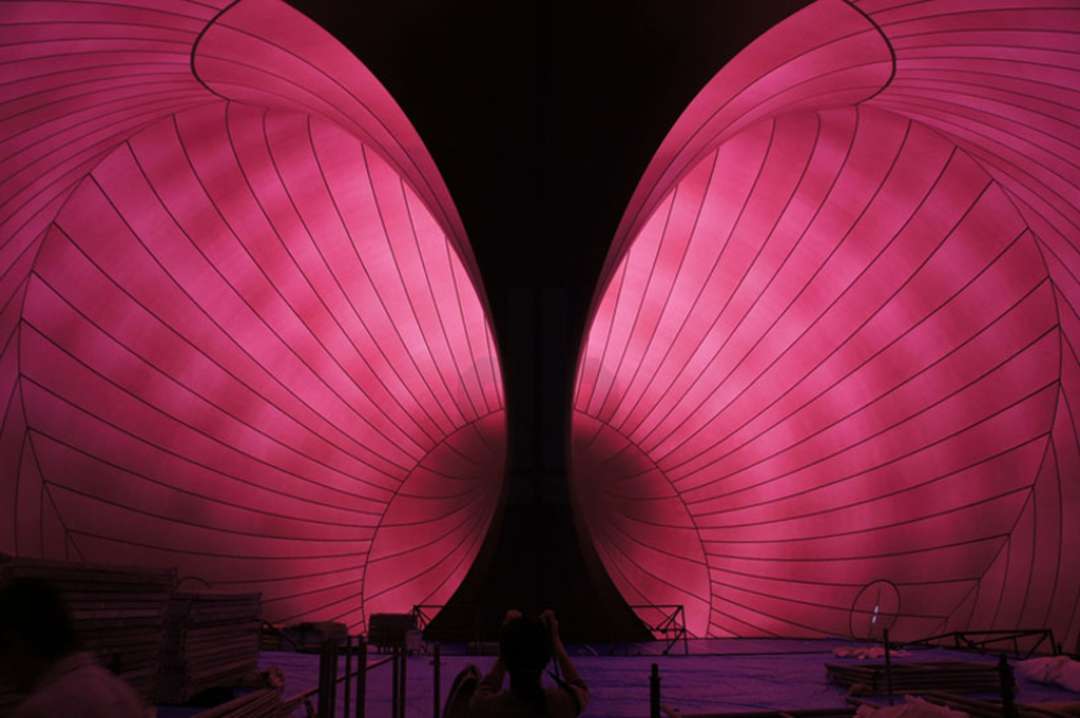 There are functional challenges that come along with the design of the Ark: spherical or egg-shaped spaces are not ideal for acoustically sensitive programs such as theatre, opera or music concerts (see my qualms about OMA's spherical theatre in Taiwan). However, this issue has been addressed ingeniously: Lucerne Festival leaders have proposed using cedar wood from damaged trees in the surrounding ancient forest as material for acoustic reflectors and boards, as well as for the seating within the hall. This salvaging of treasured timber is synonymous with the project's overriding aim: to act as a symbol for recovery after the great earthquake disaster.
The Ark's unique ability to be deflated and transported via truck means it will be enjoyed by thousands of Japanese people across the region, and potentially further afield: this is a cultural bubble of hope, and beyond its luminous exterior there lies a profoundly beautiful message.
This article was orininally published at: http://architizer.com/blog/ark-nova-concert-hall/