With America once again leading the world in energy production, the need for flame resistant clothing (FRC) to protect US oil, gas, and electrical workers is on the rise, driving an examination of safety standards as well as increased textile innovation on the part of American mills.
According to the US Bureau of Labor Statistics, employment of non-supervisory production personnel in oil and gas extraction has grown from 702,000 in 2004 to 1.04m in 2014, a 50% increase. In addition, the US Department of Labor predicts a 16% additional rise in that number, along with a 20% growth in the number of skilled electricians needed, by 2022.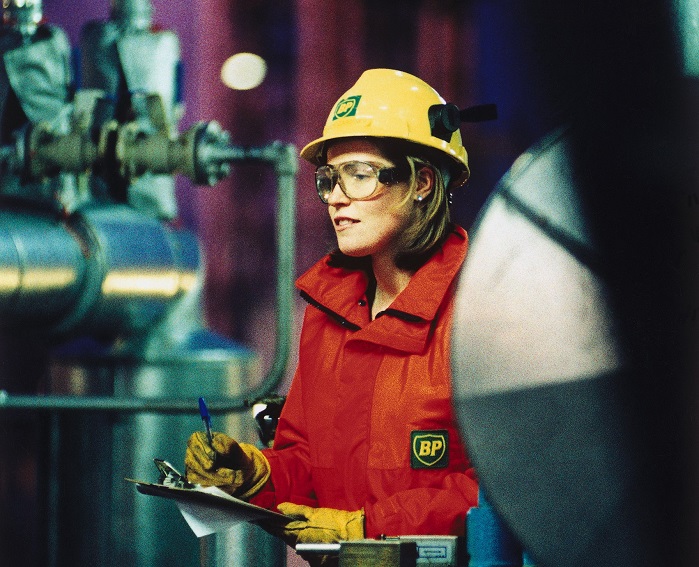 NFPA (National Fire Protection Association) 2112 provides the minimum standard for flash fire protection in FRC, and includes testing for vertical flame and char length; heat transfer performance, heat and thermal shrinkage resistance, and a three second instrumented manikin test, permitting a maximum body burn of 50%.
According to the American Burn Association, a 50% body burn holds a better than 80% survival rate for workers under the age of 50; and around 60% for workers over 50. For many companies and their workers, that level of protection is not good enough. Electrical arc flash, flash fires, and molten metal differ from one another in characteristics and create different types and levels of risk.
As FR textile innovator Westex by Milliken points out, all FR rated clothing is not rated for electrical arc hazard. A separate arc rating (AR) calculates the arc flash energy required to cause a second degree burn through the fabric 50% of the time. Most reputable, branded FRC has been tested to both FR and AR hazards.
Stricter OSHA (Occupational Health and Safety Administration) regulations, which took effect late 2014, require US employers to provide head-to-toe flame resistant clothing for all utility workers. The clothing must be specifically designed to meet an individually calculated arc risk, based on the equipment involved.
This is all good news for the American textile business, which has fought back against cheap imported textiles with innovative textile technologies, first for the US military, and now for the country's industrial workers.
FRC used to be all about synthetic fibres such as aramids, oxydized carbon fibres, and specialty polyesters, used in heavy weight fabrics that were expensive and uncomfortable. But the trend for comfortable, FR-treated cotton-based products is growing, according to Craig Tutterow, technical director for Mount Vernon FR.
The company, which manufactures FR denims and other FR woven fabrics of cotton and cotton blends with Tencel®, nylon, and Nomex®, recently issued a white paper in conjunction with the American Society of Safety Engineers (ASSE) entitled Understanding the Challenges of Managing an Effective Flame Resistant Clothing (FRC) Program.
Based on research by the Quixote Group in Greensboro, NC, the report offers a closer look at FRC customers' wants and needs. While 78% of respondents indicate that they are satisfied with the level of FR protection provided by today's FRC, the paper calls out a number of problems with available FRC, including breathability, heat and moisture management; care and durability; and lack of selections suitable for women or for wearing in inclement weather.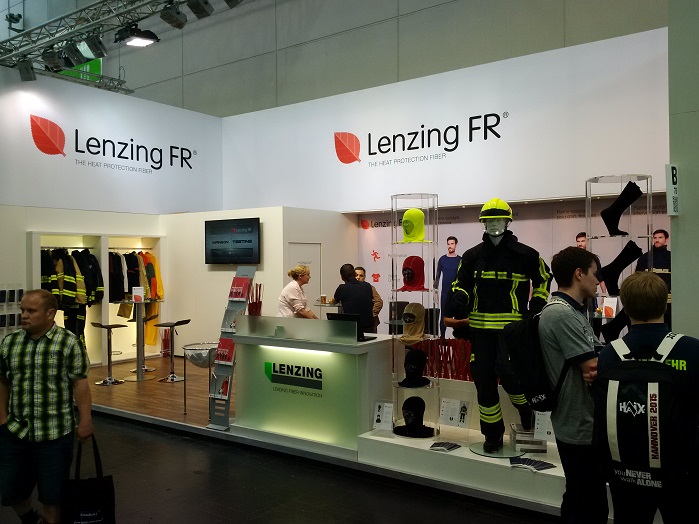 Some 13.2% of oil and gas industry workers, and 23.2% of all utilities workers are women, according to the Mount Vernon report. The report also shows that 78% of the respondents feel that today's FR fabrics are better than those of the past; but that only just under 20% have confidence in FRC made outside the US.
The report also indicates that compliance is often an issue when a garment is not comfortable. "When we develop a new fabric, protection is a given," explains Tutterow. "Comfort promotes wearability."
Mount Vernon believes that FR fabrics based on natural or cellulosic fibres provide the greatest level of comfort and breathability, without the use of wicking agents required when using synthetic fibres. Mount Vernon's cotton-based, permanently FR fabrics are created by saturating the fabric with an inflammable chemical which is then polymerized within the fabric, yarn, and fiber. The company's FR fabrics are also subjected to a high-speed air tumbling process called amSOFT which imparts softness.
FRC is worn hard and washed hard, so cotton-based fabrics are often blended with synthetics such as high-tenacity nylon for strength. Westex, acquired by Milliken in 2014, has also found success with its cotton/nylon and 100% cotton FR wovens and knits.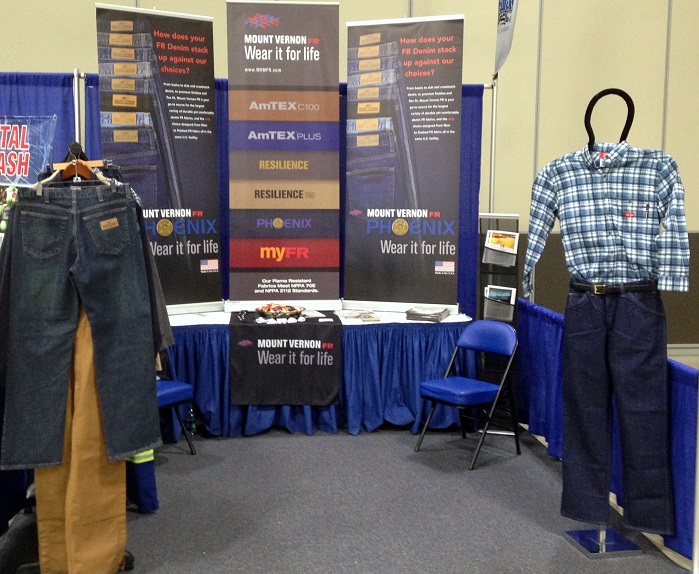 Glen Raven Technical Fabrics has chosen to take the synthetic route with their GlenGuardFR range of fabrics, based on Kermel® SofShield meta-aramid fibres blended with modacrylic and Tuaron para-aramid fibres for strength. The 6.4 oz. and 4.5 oz. woven fabrics claim to offer the "best protection-to-weight ratio available in the FR market." The fabrics receive a proprietary moisture management finish, and the yarns are solution-dyed for color longevity.
Glen Raven continues to launch new products based on customer feedback, according to Rich Lippert, director of business development, protective market, for the company. "To us, the real test is what the wearers say during and after wear trials," he explains. "We let the science as well as wear trials put the claims to the test."
One of the problems with "inherently FR" meta-aramid fabrics and FR-treated cotton-based fabrics alike is a stiff or harsh hand, which may alter the frictional characteristics, and lead to physical abrasion or breakage. Man-made cellulosic fibres such as Lenzing FR offer another option. These are created by adding an FR agent to the cellulosic solution before spinning, resulting in fabrics with a softer hand and improved breathability and moisture management.
Because the FR additive can weaken the cellulosic fibre, Lenzing FR is spun on the modal system for strength. Lenzing FR is often blended with an aramid fibre for optimum physical properties and performance; these blends are generally lower in cost than 100% aramid fabrics.
"It's all about comfort," agrees Berndt Köll, head of new business development for Lenzing FR. "Highest protection level is mandatory in any application, like firefighting, industrial heat & flame protection, military and law enforcement in US and Europe. Lenzing FR® based fabrics offer both, protection and comfort"
Lenzing FR fibres are found in yarns and fabrics for FRC from a number of US textile manufacturers, including Alamac American Knits, Coville, Draper Knitting, Filspec, Pharr Yarns, and SSM Industries.
Addressing the debate over FR treated textiles vs textiles made with "inherent" FR fibres, Westex points out that both fibres and fabrics become FR through human intervention, and that what is most important is that the FR qualities are retained for the life of the garment. The vetting of FRC must go beyond the lab to include "performance in the real world, over time." Mike Enright, VP of FR fabrics for Westex by Milliken, sums it up this way:
"At Westex by Milliken our commitment to the flame resistant industry and the overall safety of industrial workers is paramount.  Our emphasis is on understanding the flame and thermal hazards end users face in the real-world and gaining unique insights on what attributes they want from their FR clothing, regardless of the fiber they are made from. We engineer our fabrics with a guarantee of flame resistance for the life of the garment so words like 'inherent' or 'treated' don't add much value. At the end of the day, our goal is to engineer the best solution for the worker's situation.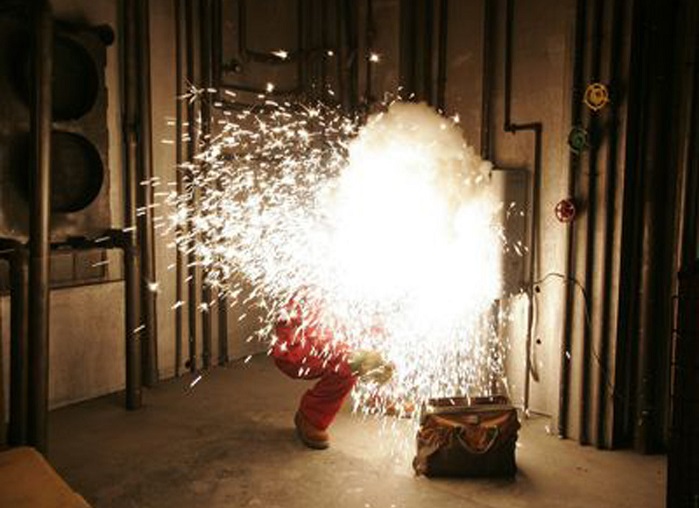 Our emphasis has always been on balancing protection with the highest possible level of comfort. We believe repeated testing in laboratory environments and wear trials are important in predicting comfort. But, above all we know that a fabric must meet the most critical test, that of the wearer using fabric as protective clothing in the real world."
"Managing an effective company-wide flame resistant clothing (FRC) program is a challenging task," says the Mount Vernon FR white paper. "The costs are high and the risks are great." The costs of a single serious burn injury without FRC can run above USD$2m; while a comparable event with a proper FRC program may cost a company around $50,000, according to the report.
As the culture of workplace safety continues to improve, it seems certain that we will continue to see innovative textiles with new fibre blends that offer the best of protective qualities as well as comfort.